THE PROGRAM
WE SUPPORT iOS 12 and iMessages!
SMS Export is an application for Windows and Mac you can use to copy the text messages (SMS) from your iPhone directly to your PC. The software is able to convert the SMS database to EXCEL, TEXT, CSV and HTML formats, giving thus the possibility to browse them easily from your computer using any application like a text editor or Microsoft Excel.
The Windows version is also able to export the text messages to EML format, to import the messages in an email software like Outlook, or in XML to export the messages to Android Phones using the Android App
SMS Backup & Restore
.
VERSION 2.2.3 FOR WINDOWS RELEASED on 06/11/2018
VERSION 2.2.7 FOR MACINTOSH RELEASED on 01/05/2018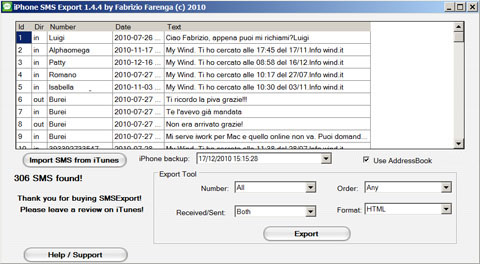 System Requirements (Windows Version)
- Windows 10, Windows 8, Windows 7, Windows Vista, or Windows XP (SP2 or newer)
- .NET Framework 3.5 sp1 (Windows XP and Vista only, free download from
Microsoft
, but usually already installed)
- iTunes 11 or 12 (free download from
Apple
)
- iPhone OS from iOS 5 to iOS 10
System Requirements (Macintosh Version)
- Mac OS X 10.6 or higher (
Important information for MacOS Mojave users
)
- iTunes 12 (free download from
Apple
)
- iPhone OS from iOS 5 to iOS 10
If you have any problem or question please
contact us
. We'll be happy to assist you.